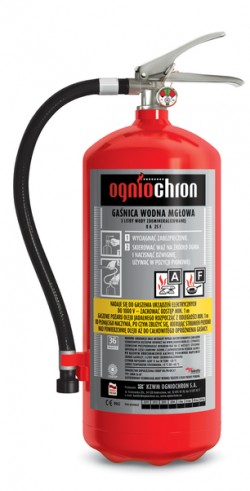 Jewel Saffire Products Ltd. of the UK, Ogniochron S.A. of Poland and Ceasefire Industries Ltd. of India, some of Europe and Asia's leading fire extinguisher manufacturers, have introduced water mist extinguishers based on Telesto technology. Jewel Saffire has introduced 1 l, 3 l and 6 liter E-Series extinguishers (see http://www.jewelsaffire.co.uk/eseries), Ogniochron 3 and 6 liter versions (see http://youtu.be/YqQYnMMLuoA) and Ceasefire 2 l, 3 l and 6 l Hydro Pyroquell units(see www.ceasefire.in/download/2fbab7ca-bd42-408d-bb79-728b05ec52fc.pdf ).
These Telesto-enabled extinguishers are unique in the industry for their "multi-purpose, multi-friendly" capabilities. They extinguish fires in ordinary combustibles like wood and paper, flammable liquids like gasoline and diesel fuels, electrical appliances such as computers and TVs as well as cooking oils. The de-mineralized water suppression agent  is safe for humans, property and the environment. No other hand portable fire suppression technology can claim the same application breadth and people, property and environment friendliness as Telesto EXTINGUSISHmist.
Water mist extinguishes are particularly recommended for protecting:

public and recreational facilities,

offices,

museums,

schools,

medical facilities,

archives,

industrial and residential kitchens.
Discussions are underway with additional manufacturers around the world and announcements of new partners are expected in the near future.
See the EXTINGUISHmist section of our site for additional information about this exciting next generation technology.